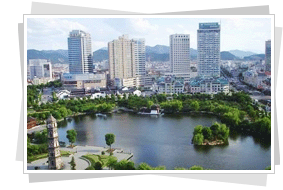 Located in the center of southeast Zhejiang Province, Yiwu is 300km away from China's largest city Shanghai, and 120km away from Zhejiang's capital city Hangzhou
.
Yiwu is well-located and it is convenient be here. Yiwu is in a midway position of the Pacific Northwest, connecting Guangdong and Fujian in the south; connecting Shanghai economic zone in the north. Yiwu is facing the Golden Channel of Pacific and the premier port of East China —Ningbo.
It covers an area of 1,105 km2, with 780,000 local residents, 1.33 million migrant workers. The reform and development of Yiwu has become national strategy as it is listed as one of the 18 typical areas of China's reform and opening-up as well as 10th national comprehensive reform pilot area after Shanghai Pudong New Areas, Tianjin Binhai New Areas, etc.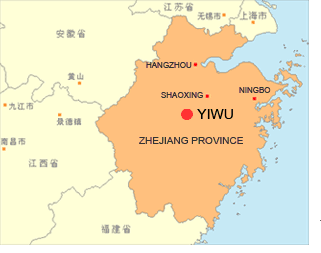 Weather Located in the subtropical monsoon climate zone, Yiwu has four distinct seasons, enjoying mild and humid climate, with annual average temperature of 17℃. The highest temperature hits in July, with an average of 29.3℃, and the lowest in January, with an average of 4.2℃.
Districts Yiwu covers a total area of 1,105 square kilometers, with altogether 8 boroughs and 6 towns under its jurisdiction.